Nexon Vs Maruti Suzuki Brezza- The 2 solid Competitors !
Both the Tata Nexon and the Maruti Suzuki Brezza are popular subcompact SUVs in the Indian market.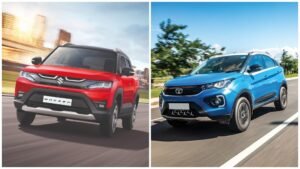 Engines
In terms of engine performance, both come with engine option also. Nexon offers Petrol as well as Diesel, with updated BS6 Phase 2, and Brezza offer CNG with class leading mileage of 25+. Tata Nexon offers slightly more powerful engine, with a 1.2-liter turbocharged petrol engine producing 120 PS of power and a 1.5-liter diesel engine producing 110 PS of power. The Maruti Suzuki Brezza, on the other hand, offers a 1.5-liter petrol engine producing 105 PS of power and a CNG variant, which offers a 25+ mileage. So those who are mileage conscious, Brezza is a clear option to go for.
Features
Both Nexon & Maruti Suzuki Brezza models offer a range of safety and convenience features such as dual airbags, ABS, EBD, rear parking sensors, and a touchscreen infotainment system. Brezza offer HUD display also. However, the Tata Nexon offers a few extra feature like better sound quality powered by Harmon and a 5 Star Global NCAP Safety Rating.
Pricing:
In terms of pricing, Nexon Vs Maruti Suzuki Brezza compares almost head to head but Tata Nexon is slightly more expensive than the Maruti Suzuki Brezza. However, the Nexon offers more features and a more powerful engine, which may justify the higher price.
Check out the latest price of Tata Nexon
Check out the latest price of Maruti Suzuki Brezza
Conclusion
Ultimately, the choice between the two models will depend on individual preferences and priorities. If you prioritize engine performance, features and safety rating, the Tata Nexon may be the better choice. However, if you prioritize fuel efficiency, affordability and service network the Maruti Suzuki Brezza may be the better option.
You may also like to read. Click Here.