Punch- Power Packed Micro SUV by TATA
The Tata Punch is the latest addition to the Tata Motors family, a compact SUV that promises impressive power, performance, and solid build quality. With its unique design and incredible features, the Punch is all set to make its mark on the Indian automobile industry.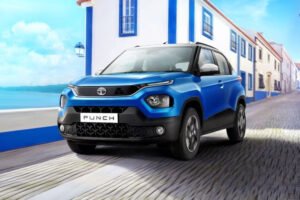 Smooth ride comfort is the punch key element
The incredible riding quality of my Tata Punch is one of its best features. Being able to manoeuvre in traffic and make fast bends is made simple by the light steering at low speeds. Furthermore, U-turns are simple thanks to the tiny turning radius. The steering becomes incredibly stable at higher speeds for better control and assurance. The ride is amazing when travelling at 80 to 90 kph.
Additionally, the suspension is flawlessly calibrated, easily absorbing bumps and potholes. You can drive with confidence knowing you won't hit the bottom thanks to its higher ground clearance than other hatchbacks in the market. Off-roading and bumpy roads are no problem for the Punch.
Punch- Power packed performance
The Tata Punch boasts a 1.2-liter Revotron engine that delivers a maximum power of 86PS and a peak torque of 113Nm. It comes with a five-speed manual transmission and a five-speed AMT option. With a fuel efficiency of 18.6 km/l, the Tata Punch packs a real punch in terms of performance. And one cannot find it underpowered, only the car enthusiasts can find it sluggish but in normal day to day life and bumper to bumper traffic it has enough horse power to handle anything.
Best in class Seating Comfort
Punch seats are wonderfully cosy. The under-thigh support is fantastic for extended journeys without weariness, and the form of the seat provides decent back support. On highways, it is even more soothing due to the dead pedal.
90-degree doors, and the inclined seat angle makes it easy for ingress and outgress.
Punch Safety rating
Punch has achieved 5 Star global NCAP rating. Which itself is a very big thing to consider, where in India we often come across accident, so having a good build quality does save life.
Decent mileage
Travelling primarily on highways we observed an average mileage of 21 to 23 kilometres per litre. Except when entering towns or leaving highways, fuel conscious people generally drive in eco mode. My friend travelled 120 km to Hyderabad, including 100 km of highway, and rest 20 in city and traffic he managed to get around decent 20 KMPL
Punch Price
Punch from Tata starts from Rs. 5.99 lakhs ex-showroom
Conclusion
So, if you're looking for a micro SUV that packs a punch in terms of power, performance, and style, then the Tata Punch is the perfect choice for you. With its impressive features and affordable price tag, the Tata Punch is all set to make its mark in the Indian automobile market. Don't miss out on the chance to experience the punch-packed Tata Punch!