Advanced Autonomous Driving Technology:
What to Expect from the Highly Anticipated Apple Car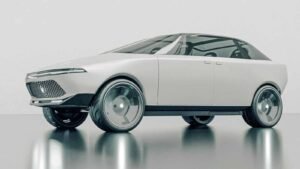 For years, rumours have been circulating about the potential for Apple to enter the automobile industry. While there has been no official apple car news, recent developments suggest that the company is indeed working on a car of its own, known simply as the Apple Car Concept.
So what can we expect from this highly anticipated vehicle? While details are still scarce, industry experts believe that the Apple Car will be an electric vehicle with advanced autonomous driving capabilities. Apple has been investing heavily in self-driving technology for years, and the Apple Car may be the company's chance to showcase its expertise in this area.
One of the most exciting aspects of the Apple Car is the potential impact it could have on the electric vehicle market. As one of the most respected and recognizable brands in the world, Apple has the power to bring electric vehicles into the mainstream and change the way we think about transportation.
But the Apple Car isn't just expected to be environmentally friendly and innovative. Apple is known for its focus on aesthetics and attention to detail, and the Apple Car is expected to have a sleek, modern design that sets it apart from other vehicles on the road.
In addition to its electric powertrain and advanced autonomous driving technology, the Apple Car is also expected to be loaded with cutting-edge features and functionality. For example, it may include a range of sensors and cameras to detect road conditions and potential hazards, as well as advanced infotainment and connectivity options.
Of course, with such high expectations, there are also concerns about the potential cost of the Apple Car. While there has been no official word on pricing, some experts believe that apple electric car project could be significantly more expensive than other electric vehicles on the market.
However, even if the Apple Car is priced at a premium, it's likely that many consumers will still be eager to get their hands on one. After all, Apple has a track record of creating high-quality, innovative products that capture the public's imagination.
So when can we expect to see the Apple Car on the road? While there has been no official apple car release date, some industry analysts believe that it could be available as early as 2025.
Whether or not the Apple Car lives up to the hype remains to be seen, but one thing is certain: if it does indeed enter the market, it has the potential to revolutionize the automobile industry and change the way we think about transportation.