Brezza CNG An Introduction
When it comes to fuel-efficient vehicles that prioritize sustainability without compromising on performance, Maruti Suzuki has been a front-runner in the automotive industry. The Brezza CNG, the CNG variant of the renowned Maruti Brezza model, exemplifies Maruti Suzuki's commitment to providing eco-friendly solutions. In this comprehensive review, we will delve into the Brezza CNG's exceptional features, its competitive price, impressive mileage, and why it surpasses other options like XUV 300, Nexon from Tata, Hyundai Venue, Kia Sonet in the market. We will also discuss the cons of the Brezza CNG to provide a balanced overview and present a variant-wise pricing table for your reference.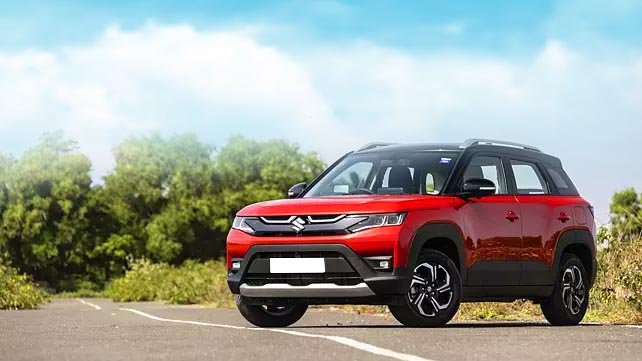 Unbeatable Price and Remarkable Maruti Brezza CNG Mileage
The Brezza CNG presents an enticing combination of affordability and fuel efficiency. Maruti Suzuki understands the importance of offering a cost-effective solution that doesn't compromise on quality or performance. With a competitive price tag, the Brezza CNG makes it possible for a wider audience to embrace the benefits of CNG technology. Alongside its affordable price, this variant boasts remarkable mileage figures of 25.51 km/kg, making it an ideal choice for those seeking a vehicle that can cover long distances while minimizing fuel consumption. The Brezza CNG ensures you can go the extra mile without worrying about frequent fuel stops or straining your budget.
Maruti Brezza CNG: Setting New Standards in CNG Vehicles:
Maruti Suzuki has established itself as a pioneer in CNG-powered vehicles, and the Brezza CNG upholds this legacy. With years of expertise in automotive engineering, Maruti Suzuki has perfected the integration of CNG technology into their vehicles, providing a seamless and reliable driving experience. The Brezza CNG undergoes rigorous testing and quality assurance measures to ensure optimal performance and reliability. By choosing the Brezza CNG, you can trust that you're driving a vehicle crafted with precision and backed by Maruti Suzuki's reputation for excellence.
Why Choose Brezza CNG over Other CNG CAR Options?
In a market flooded with various CNG options, the Brezza in CNG stands out as a superior choice. Its exceptional features and performance set it apart from the competition.
The Brezza CNG offers a spacious and comfortable cabin, complemented by stylish exterior design elements. It incorporates advanced safety features, ensuring the well-being of both the driver and passengers.
Furthermore, the Brezza CNG includes a range of convenience and entertainment features, elevating the overall driving experience.
When you opt for the Brezza in CNG, you're not just choosing an efficient vehicle but embracing an enhanced driving experience that combines power, comfort, and modern technology.
Here are some unique features of the Brezza CNG:
LED Projector Headlamps: The car is equipped with stylish LED projector headlamps, providing excellent visibility and a distinctive look
LED Taillamps: The SUV features LED taillamps that not only enhance visibility but also add a touch of modernity to the vehicle's rear design.
Alloy Wheels: The car comes with stylish looking alloy wheels that enhances the overall looks as well as also improve the vehicle's performance and handling with broad tyres.
7-inch SmartPlay Pro Infotainment System: The SUV is equipped with a 7-inch SmartPlay Pro infotainment system, which supports wireless Apple CarPlay and Android Auto, providing seamless connectivity and entertainment options.
Automatic Climate Control: The car offers automatic climate control, allowing passengers to set their preferred temperature for a comfortable driving experience.
Cruise Control: This feature enables the driver to maintain a set speed without the need for continuous acceleration, enhancing convenience during long drives.
Keyless Push Start: With the keyless push start feature, the driver can start the vehicle with the push of a button, eliminating the need to insert a key.
Electric Sunroof: The Brezza CNG comes with an electric sunroof, allowing passengers to enjoy fresh air and natural light while on the go.
Integrated Petrol and CNG Fuel Lid: The SUV has a unique design that integrates both the petrol and CNG fuel lids, providing convenience during refueling.
Dedicated CNG Drive Mode: The Brezza CNG offers a dedicated CNG drive mode, optimizing the vehicle's performance while running on CNG fuel.
Digital and Analogue CNG Fuel Gauges: The SUV is equipped with both digital and analogue CNG fuel gauges, allowing the driver to easily monitor the CNG fuel level.
Illuminated Fuel Change-Over Switch: The Brezza CNG features an illuminated fuel change-over switch, making it easy for the driver to switch between petrol and CNG fuel modes.
These unique features make the this car a versatile and convenient SUV choice, providing a combination of modern design, advanced technology, and fuel efficiency.
Cons of Brezza CNG: Considerations to Keep in Mind:
While the Brezza CNG presents numerous advantages, it's essential to consider its potential drawbacks. One of the limitations of CNG-powered vehicles, including the Brezza CNG, is the reduced boot space due to the CNG tank occupying a portion of the storage area. However, Maruti Suzuki has implemented intelligent design and efficient space utilization, minimizing the impact on practicality.
It's crucial to assess your specific storage needs to ensure the Brezza CNG meets your requirements. Additionally, availability of CNG stations in certain areas may be limited. Therefore, it's advisable to evaluate the CNG infrastructure in your region before making a decision.
Power Specification Table and Variant-Wise Pricing:
For a more comprehensive overview, here is a power specification table and variant-wise pricing of the Brezza CNG:
MARUTI SUZUKI BREZZA PETROL VS CNG PRICES

EX-SHOWROOM HARYANA (MAY 2023)

Variants
Petrol Prices
Difference
CNG Prices
BREZZA LXI Manual
Rs. 8,29,000
Rs. 95,000
Rs. 9,24,000
BREEZZA VXI Manual
Rs. 9,64,500
Rs. 95,000
Rs. 10,59,500
BREZZA ZXI Manual
Rs. 11,04,500
Rs. 95,000
Rs. 11,99,500
BREZZA ZXI Dual Tone Manual
Rs. 11,20,500
Rs. 95,000
Rs. 12,15,500
Power Specification:
| Engine Type | Displacement | Power | Torque |
| --- | --- | --- | --- |
| K15C Dualjet | 1,462 cc | 91 bhp | 122 Nm |
MARUTI SUZUKI BREZZA COST PER KM (APRIL 2023)
Petrol
Difference
CNG
Fuel Price Haryana
Rs. 96.68
Rs. 13.76
Rs. 82.92
Manual Mileage
20.15kmpl
5.36km
25.51kmpl
Manual Cost Per KM
Rs. 4.3
Rs. 1.05
Rs. 3.25
Conclusion:
In conclusion, the Brezza in CNG by Maruti Suzuki is a remarkable vehicle that combines power, efficiency, and reliability. With its competitive price, impressive mileage, and outstanding features, it outperforms other options in the market. The Brezza CNG is the epitome of eco-friendly driving without compromising on performance or comfort. Embrace the future of automotive technology with the Brezza CNG and experience the perfect blend of power, efficiency, and sustainability on every journey.
You would also like to read about CNG Cars in India. Click Here
Check out the latest prices on official website and book a test drive slot. Click Here