Car detailing has become very popular for car maintenance in the USA. The process of car detailing involves cleaning, polishing, restoring a car's interior and exterior to make it look like a new car. The process is not just for aesthetics, but also for maintaining the car's overall health. However, many car owners are hesitant to get their cars detailed because they are unaware of the costs and benefits associated with car detailing. In this article, we will discuss car detailing prices and the benefits of car detailing in the USA.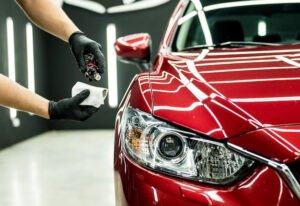 Car Detailing Prices
The cost of car detailing varies depending on the type of service required, the size of car, and the detailing company's location. In general, car detailing prices can range from $50 to $300 or more. Basic detailing services like exterior washing, waxing, and tire cleaning can cost around $50 to $75 for a small car and up to $150 for larger cars. Meanwhile, complete detailing services like interior cleaning, polishing, and paint correction can cost upwards of $200 to $300 or more.
The cost of car detailing also depends on the detailing company's expertise and reputation. Established detailing companies with a good reputation and years of experience may charge higher prices. However, it's important to note that the cost of car detailing is a small price to pay for the benefits that come with it. But one has to compare and ask from others to get the price quote for their vehicle.
Benefits of Car Detailing
Improved Aesthetics: Car detailing improves a car's appearance both inside and out. By removing dirt, grime, and other contaminants, detailing, and this brings back the shine and luster of a car's paint. The interior is also thoroughly cleaned and restored, that includes plastic areas like dashboard and leather areas like seat covers and other soft fabrics.
Protection: Car detailing protects a car's paint and interior from harmful elements like UV rays, dirt, and debris. Waxing and sealing the car's exterior provide a layer of protection against the sun's harmful rays, preventing the paint from fading and chipping. Meanwhile, the interior is protected from dust and grime build-up, which can lead to premature wear and tear.
Increased Resale Value: A well-maintained car has a higher resale value than a poorly maintained one. Regular detailing can keep a car in top condition, making it more attractive to potential buyers. Detailing also helps prevent wear and tear, which can decrease a car's value over time.
Better Health: A car's interior can be a breeding ground for bacteria and allergens, which can be harmful to a driver's health. Car detailing includes thorough cleaning of the car's interior, removing any dirt, dust, or other contaminants that could cause health problems.
Peace of Mind: A well-maintained car gives the owner peace of mind, knowing that their vehicle is in good condition. Regular detailing helps prevent problems from arising and ensures that the car is in top condition.
The best thing to do before going for car detailing is research by googling or searching nearby. So that one can check what is going on with their car, if the detailer is nearby. Before going for detailing enquire "how much does interior car detailing cost". There is also a services like "mobile car detailing" which can be helpful for people who cannot go very long way, or who don't have time for it. and one can search on google "mobile car detailing near me prices"
Some of the detailers or company names are as Follows:
Official California Detailing & Ceramic Coating-
Visit Here
Dun Right Detailing & Windshield Repair-
Visit Here
Conclusion: Car detailing may seem like an unnecessary expense, but it's an investment that pays off in the long run. The cost of car detailing is a small price to pay for the benefits that come later. Improved aesthetics, protection, increased resale value, better health, and peace of mind are just a few of the benefits of car detailing. So, if you're a car owner in the USA, consider getting your car detailed to keep it in top condition and enjoy the benefits that come with it.