Car Emergency Kit- An Introduction
In this comprehensive guide, we will delve into the world of car emergency kits, exploring their importance, contents, car emergency kit list, and the best options available. There are few homemade car survival kit, but they really don't work sometime, Whether you're a seasoned driver or a new car owner, having a well-stocked emergency kit is crucial for your safety and peace of mind on the road and an emergency backpack for car. We'll provide you with valuable insights, expert advice, and a detailed article on what to put in a car emergency kit list to help you navigate any unexpected situation with confidence. Let's dig out the best car emergency kit.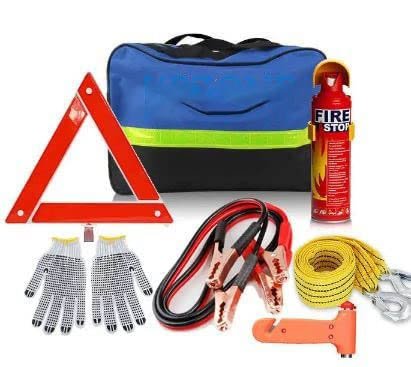 Understanding the Significance of a Car Emergency Kit:
1.1 Why Do You Need a Car Emergency Kit?
A car emergency kit is an essential companion for every driver, offering vital supplies to handle unforeseen circumstances. From mechanical breakdowns and accidents to extreme weather conditions, having the right tools and provisions can make all the difference in ensuring your safety and minimizing potential risks.
1.2 Benefits of a Well-Prepared Car Emergency Kit:
Safety: A properly stocked emergency kit equips you with the necessary tools to handle emergencies, ensuring your safety and that of your passengers.
Peace of Mind: Knowing you're prepared for unexpected events instills confidence and allows you to focus on driving, knowing you have the resources to handle any situation.
Timely Assistance: In remote or less-traveled areas, where help might be scarce, a well-equipped emergency kit can provide temporary solutions until professional assistance arrives.
Cost Savings: Swiftly addressing minor issues with the help of your emergency kit can prevent further damage, potentially saving you from expensive repairs or towing services.
Essential Items for Your Car Emergency Kit:
2.1 Tools and Equipment:
Jumper Cables: In case your car battery dies, jumper cables allow you to restart your vehicle using another car's battery.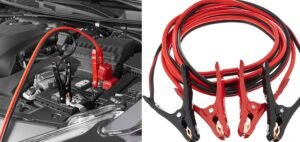 Buy from Amazon. Click Here
Tire Inflator and Sealant: A portable tire inflator can help reinflate a flat tire, while a sealant can temporarily patch small punctures, allowing you to reach the nearest repair facility.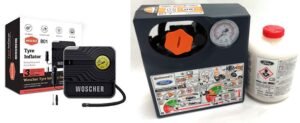 Buy from Amazon. Click Here
Multi-Tool and Pocket Knife: These versatile tools can assist in a variety of situations, from cutting seatbelts to minor repairs.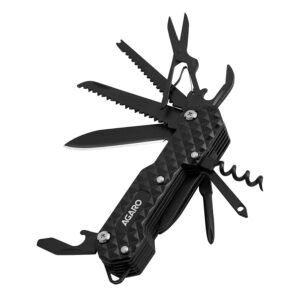 Buy from Amazon. Click Here
Reflective Triangles or Road Flares: These warning devices help alert other drivers to your presence in case of a breakdown or accident, enhancing safety on the road.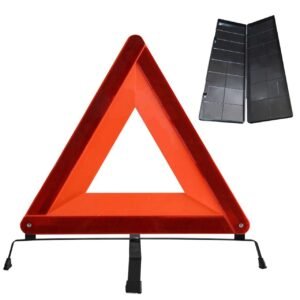 Buy from Amazon. Click Here
Duct Tape and Zip Ties: These simple yet invaluable items can provide temporary fixes for broken parts or secure loose objects.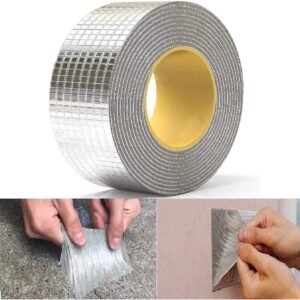 Buy from Amazon. Click Here
Tubeless tyre puncture kit: A Tyre Puncture Kit is a portable solution for repairing flat tires. It typically includes plugs, tools, and sealants to fix punctures on the go, ensuring a safe journey.
Buy from Amazon. Click Here
Towing rope for car: A towing rope for cars is made of durable materials like nylon or polyester. It's typically 3-6 meters long, with hooks for secure attachment
Buy from Amazon. Click Here
2.2 Safety and Survival Supplies:
First Aid Kit: A comprehensive first aid kit should include bandages, antiseptic wipes, pain relievers, and other essential medical supplies.
Emergency Blanket: This lightweight, thermal blanket can help retain body heat in cold weather conditions.
Flashlight and Extra Batteries: A reliable flashlight is crucial for night-time emergencies or inspecting your vehicle in the dark.
Whistle: A loud whistle can attract attention and help rescuers locate you in case you're stranded.
Non-Perishable Food and Water: Pack energy bars, canned goods, and bottles of water to sustain you in case of prolonged delays or emergencies.
2.3 Weather-Specific Items: (winter car emergency kit)
Ice Scraper and Snow Brush: If you live in a cold climate, these tools are indispensable for clearing ice and snow from your windshield and vehicle.
Warm Clothing and Extra Blankets: Dressing in layers and having extra blankets ensures you stay warm if you're stranded in harsh winter weather.
Hand Warmers: These small heat packs provide instant warmth and can be a lifeline during frigid temperatures.
Choosing the Best Car Emergency Kit:
3.1 Considerations When Selecting a Car Emergency Kit:
Quality and Durability: Look for kits made with durable materials to withstand challenging conditions and frequent use.
Comprehensive Contents: Ensure the kit includes essential tools, safety supplies, and survival items, covering a wide range of potential emergencies.
Size and Portability: Opt for a compact and lightweight kit that won't take up too much space in your vehicle but still contains all the necessary items.
Trusted Brands: Research reputable brands known for producing reliable and high-quality car emergency kits.
3.2 Recommended Car Emergency Kit:
AAA car emergency kit: This comprehensive kit includes all the essential tools, safety supplies, and survival items you need. It's designed to withstand extreme weather conditions and is highly rated by customers.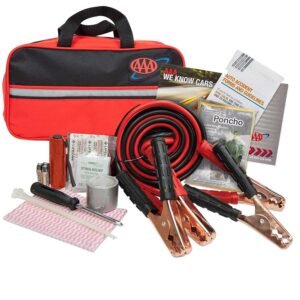 Buy from Amazon. Click Here
Building Your Customized Car Emergency Kit:
4.1 Assessing Your Specific Needs:
Consider your driving habits, local weather conditions, and personal preferences when customizing your car emergency kit. Some additional items to consider include:
Roadside Assistance Membership Card: Joining a reputable roadside assistance service can provide added peace of mind and access to professional help when needed.
Spare Car Keys: Having a spare set of car keys stored in a secure location within your emergency kit can save you from being locked out of your vehicle.
Medications: If you or your passengers have specific medical needs, include necessary medications and supplies in your kit.
4.2 Regular Maintenance and Inspections:
Ensure your emergency kit remains up-to-date and fully functional by conducting regular checks and replacing expired items. Verify that all tools and equipment are in working order, and replenish any consumed or expired supplies.
Conclusion:
A well-prepared car emergency kit is an invaluable asset for any driver, providing the necessary tools and supplies to handle unexpected situations. By understanding the importance of a car emergency kit, knowing what to include, and choosing the best options available, you can significantly enhance your safety and preparedness on the road. Remember to customize your kit based on your specific needs and conduct regular maintenance to ensure its effectiveness. Stay prepared, drive safely, and enjoy the peace of mind that comes with being ready for anything.
You may also like to read about Spark Plug Gap adjustment without tool. Click Here.