MARUTI FRONX
Unleashing the Power and Luxury of Maruti Suzuki's Performance line-up: A True Automotive Marvel
Welcome to our in-depth guide on the remarkable Maruti Suzuki Fronx. In this comprehensive article, we will delve into every aspect of this extraordinary vehicle, showcasing its groundbreaking features, exceptional performance, and unmatched value for money. Prepare to be captivated by the sheer brilliance of the Maruti Fronx.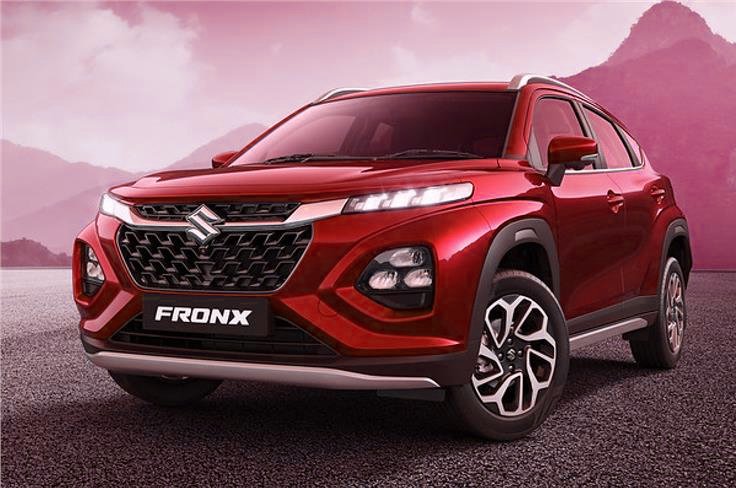 Introducing the Maruti Fronx: A Class Apart
Maruti Suzuki has once again raised the bar in the automotive industry with the introduction of the Maruti Fronx. This magnificent vehicle redefines excellence, blending power, luxury, and innovation into a single package. Its sleek and dynamic design commands attention on the road, making heads turn wherever it goes.
Unmatched Performance on Every Drive
Under the hood, the Maruti Fronx houses a powerhouse that delivers exhilarating performance. The 1.0L Boosterjet turbo-petrol engine exhibits impressive speed and minimal turbo lag, delivering a satisfying driving experience in city as well as highway. In addition, the Smart Hybrid system incorporated in the engine ensures outstanding mileage. Maruti Fronx mileage has an ARAI rating ranging from 20.01 to 22.89 kmpl. Contrary to our expectations, this engine doesn't quite live up to the anticipated performance, even though it claims a 0-100kph time of 11.3 seconds (Approx.*). The five-speed manual transmission offers smooth and accurate shifts, with appropriately spaced gear ratios. However, it's the engine's fuel-efficient calibration that results in a slightly jerky and abrupt power delivery at lower speeds.
ENGINE SPECIFICATION FOR 1 LTR TURBO
Exceptional Ground Clearance for Versatility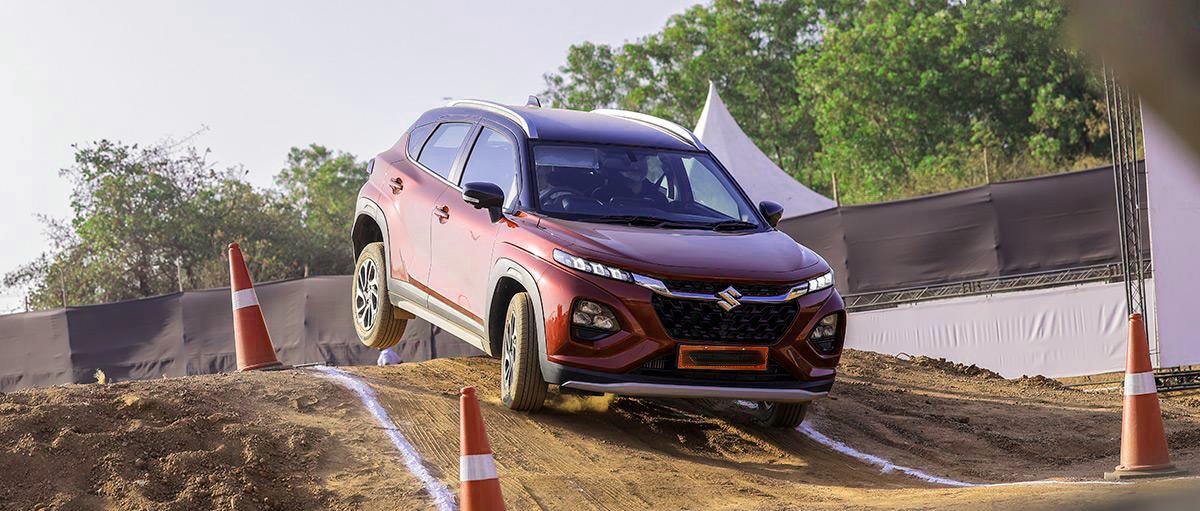 One of the standout features of the Maruti Fronx is its remarkable 190mm ground clearance. With an impressive distance between the underbody and the road, this vehicle effortlessly conquers rough terrains, speed bumps, and uneven surfaces. You can confidently take on any adventure, knowing that the Fronx will tackle even the most challenging road conditions with ease.
Luxury Redefined: Step into Opulence
Step inside the Maruti Fronx, and you'll be greeted by a haven of luxury and comfort. The meticulously crafted interiors are designed to pamper your senses. Sink into plush leather seats that provide the perfect blend of support and relaxation. The spacious cabin ensures ample legroom and headspace for both the driver and passengers, making every journey a delightful experience.
Advanced Technology at Your Fingertips
The Maruti Fronx is a testament to Maruti Suzuki's commitment to technological innovation. With its state-of-the-art infotainment system, you can stay connected and entertained on the go.
The all-new 9.0-inch touchscreen, initially introduced in the Baleno, stands out as one of the most impressive units available. We were particularly impressed by its responsiveness, high resolution, and a comprehensive range of features. These features include voice commands, wireless Apple CarPlay and Android Auto connectivity, and over-the-air updates. This top-of-the-line Smartplay Pro+ system is exclusively offered in the Alpha trim, while the lower variants come with a smaller 7.0-inch screen and a more basic Smartplay interface.
Additionally, the vehicle is equipped with convenient features such as push button start/stop, cruise control, a 360-degree camera for enhanced visibility, fast USB charging ports, a premium 6-speaker sound system, and a total of six airbags to ensure safety.
Safety Above All Else
Maruti Suzuki prioritizes your safety, and the Fronx is equipped with 6 airbags, and comprehensive range of advanced safety features. From anti-lock braking systems and electronic stability control to reinforced body structure, the Fronx offers robust protection for you and your loved ones. Enjoy peace of mind knowing that every drive is secure and well-guarded.
Fronx Price: Unbelievable Value for Money
When it comes to value for money, the Maruti Fronx truly shines. The Fronx car price range starting from Rs. 7.46 Lakh and going up to Rs. 13.13 Lakh (Ex-showroom). Maruti Suzuki has meticulously priced this luxury vehicle to ensure affordability without compromising on quality or features. Experience the pinnacle of automotive excellence at a price that won't break the bank. The Maruti Fronx stands as a testament to the brand's commitment to providing unparalleled value to its customers in terms of pricing.
Maruti Fronx: Ride & handling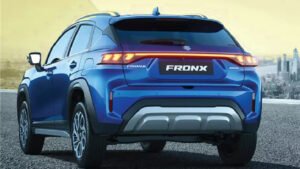 When it comes to the ride and handling of the Maruti Suzuki Fronx, it impresses despite its raised suspension. The vehicle feels solidly grounded, and credit goes to Maruti Suzuki for maintaining ride and handling characteristics similar to the Maruti Suzuki Baleno. Minimal body roll and commendable high-speed dynamics contribute to its overall performance. However, it's worth noting that the ride quality is slightly firmer compared to the Baleno as it is a performance car unlike baleno which has NA engine. While it doesn't result in discomfort or harshness, you can discern the road surface beneath you, and on uneven roads, there is noticeable vertical movement.
Conclusion: Elevate Your Driving Experience with Maruti Fronx
In conclusion, when considering the Fronx's origins, which stem from the Baleno, it becomes evident that it is a remarkably well-conceived product. It retains the admirable qualities of the premium hatchback while donning a fresh appearance to enter the realm of compact SUVs. Positioned with a range for fronx price starts at Rs 7.47 lakh and goes upto 13.14 lakh (ex-showroom), it comfortably resides within the compact SUV segment, avoiding direct competition with the Baleno (starting at Rs 6.61 lakh) and the Brezza (starting at Rs 8.29 lakh).
With its spacious and comfortable interior, along with a comprehensive range of features, the Fronx is bound to be a hit among consumers. However, its true allure lies not only in the Boosterjet engine but also in its commanding road presence and exceptional design, which have garnered widespread acclaim.
You may also like to read about Tata Punch: Click Here