Introduction
Introducing the Volvo electric car- EX30: A Marvel of Compact, Fully Electric SUV Innovation
Renowned for their unwavering commitment to safety and opulence, Volvo has once again outdone themselves with the remarkable EX30, a proper Volvo Electric Car. This compact, fully electric SUV embodies the perfect fusion of style and functionality, captivating the hearts of discerning drivers.
Immersive Features that Redefine Excellence (Volvo Electric Car EX30)
Prepare to be captivated by the myriad of features that come standard with the Volvo Electric Car EX30, including an awe-inspiring 10.25-inch touchscreen infotainment system that effortlessly places the world at your fingertips. Complementing this technological marvel is the exquisite 12.3-inch digital instrument cluster, providing a visual symphony of information that keeps you informed on the go. Marvel at the vast expanse above you through the panoramic sunroof, seamlessly blending the boundaries between the interior and the outside world.
Features of Volvo Electric Car EX30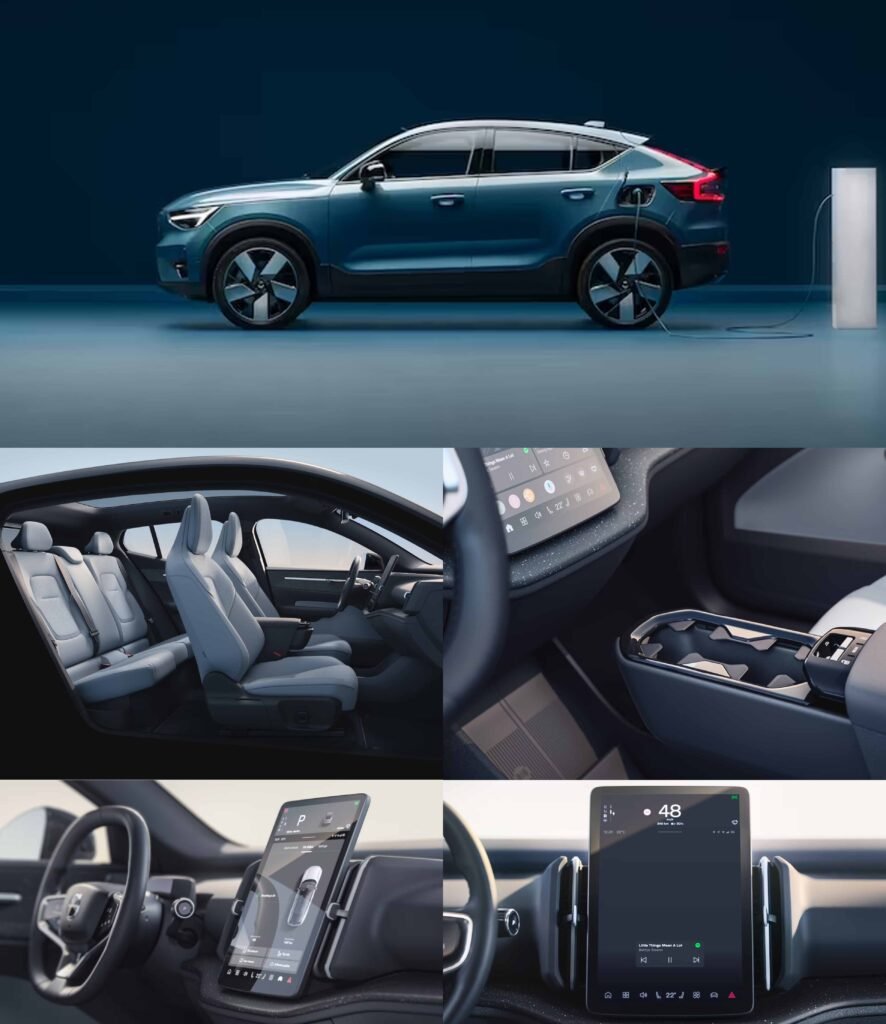 The Volvo EX30 comes standard with a long list of features, including:
A 10.25-inch touchscreen infotainment system with Apple CarPlay and Android Auto
A 12.3-inch digital instrument cluster
A panoramic sunroof
Heated front seats and steering wheel
A hands-free power liftgate
A suite of advanced safety features, including automatic emergency braking, lane departure warning, and blind spot monitoring
The Volvo EX30 also offers a wealth of optional features, affording you the opportunity to customize your driving experience. Lose yourself in the crystal-clear soundscape delivered by the optional Bose sound system, transcending the ordinary and embracing pure auditory bliss. Treat your passengers to the epitome of comfort with the optional heated rear seat, ensuring that every journey becomes an unforgettable experience. Revel in the comprehensive visibility provided by the optional 360-degree camera system, allowing you to navigate with absolute confidence. Elevate your driving experience with the optional head-up display, projecting crucial information right onto your windshield. And for the tech-savvy individuals, the wireless charging pad allows you to effortlessly power your devices on the go.
Battery Capacity and Charging Time: Unleash the Power of Limitless Exploration
The Volvo EX30 is propelled by a formidable 69-kWh battery pack, delivering an awe-inspiring range that will take you places you've never imagined. According to EPA estimates, the EX30 boasts a range of up to 250 miles on a single charge, ensuring that the road becomes your canvas for adventure. While the EX30 can be charged using a standard 120-volt outlet, be prepared for a longer charging time of approximately 24 hours to replenish the battery completely. To expedite your journey, harness the power of a 240-volt outlet, reducing the charging time to a mere 8 hours. Alternatively, the EX30 welcomes the swift embrace of a public DC fast charger, capable of fully charging the battery in a mere 30 minutes, allowing you to get back on the road with minimal interruptions.
Unleash Your Wanderlust with the Remarkable Range
Embark on limitless escapades with the Volvo EX30, equipped with an EPA-estimated range of 250 miles. This impressive feat means you can traverse an astonishing 250 miles on a single charge, unlocking a realm of exploration without compromise. In the realm of electric SUVs, the EX30 stands tall, comparable to its peers in its class, setting the stage for boundless adventure.
Embrace the Future: Arrival and Pricing
Set your sights on the horizon, as the eagerly anticipated Volvo Electric Car EX30 is poised to grace the roads of the United States in early 2024. While pricing details remain a closely guarded secret, industry insiders suggest a starting point around $40,000, making the EX30 an enticing option for those seeking luxury in their electric SUV experience.
Specifications: Where Power and Performance Converge
Under the hood, the Volvo EX30 boasts a single electric motor, a testament to the efficiency of its design, generating a formidable 200 horsepower and an impressive 240 pound-feet of torque. Embrace the thrill of acceleration as the EX30 propels you from 0 to 60 mph in a mere 7.5 seconds. While the EX30's top speed is limited to 100 mph, it still guarantees an exhilarating driving experience, encapsulating the essence of Volvo's commitment to performance.
Specifications Table of Volvo Electric Car EX30
Feature
Specification
Engine
Single electric motor
Horsepower
200
Torque
240 lb-ft
0-60 mph
7.5 seconds
Top speed
100 mph
Battery Capacity

Range

69 kWh

250 miles

Charging time
8 hours (240-volt outlet), 30 minutes (DC fast charger)
Price
Starting at $40,000
A Final Word: Uniting Luxury and Environmental Responsibility
With the Volvo Electric Car EX30, practicality and style intertwine effortlessly, culminating in an electric SUV that appeals to a broad spectrum of discerning buyers. From its extensive range to its fast charging capabilities, the EX30 places you at the forefront of automotive innovation. Embrace the allure of safety and convenience features that seamlessly complement the luxurious driving experience. By choosing the Volvo Electric Car EX30, you not only choose opulence but also make a resolute commitment to environmental consciousness. Say yes to luxury, sustainability, and a brighter future on the roads with the Volvo EX30.
You may also like to read about Apple Car. Click Here.
Visit official Website of Volvo. Click here.